We take care of information so it is safe and protected.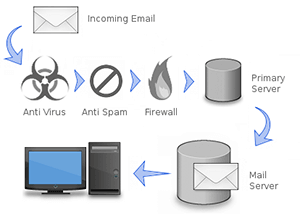 It is our top priority to ensure the security and protection of your private business information. Security becomes even more important now when we are all working online, through various devices and public networks. That's why It is vital to be taken the necessary measures to protect your email from hackers or viruses. With HyperMail, you can be sure that your information is secure and will not become an easy target for malicious attacks.
Anti-Spam & Anti-Virus
Modern anti-spam filters and anti-virus programs are a mandatory part of our system. They successfully take care of unwanted spam and viruses. Your business communications run smoothly because all incoming and outgoing emails, and attachments, are scanned for viruses.
Levels of filtering:
We examine the SMTP sender information.
We also filter the content of the message itself. We use a leading anti-spam system that takes care of scanning e-mail spam
We also include a new technology that enables us to prevent false Non-Delivery reports (NDR), generated by the overwritten return address
Encrypted communication between the server and the device.
Communication between all client devices and the server is encrypted, which prevents eavesdropping or the interception of any data in a readable form.
Recover database information up to 30 days
Email has become an essential business tool, whether communicating with suppliers, customers or employees. Therefore, protecting your database information is crucial for company's stability. HyperMail provides secured storage of your information, likewise protection against losing valuable database.
Deleted messages, calendar items, contacts and tasks can be recovered from the last thirty (30) days to ensure that you always have the information you need. HyperMail also provides backup for clients with specific needs for data storage.
Automatic data protection in case of accident
All critical components and functionalities of our system are doubly secured, so that your data and information will not be lost in the event of an accident or other emergency, we assure double protection for all accounts.