Productivity of your organization will be improved significantly with HyperMail. Why?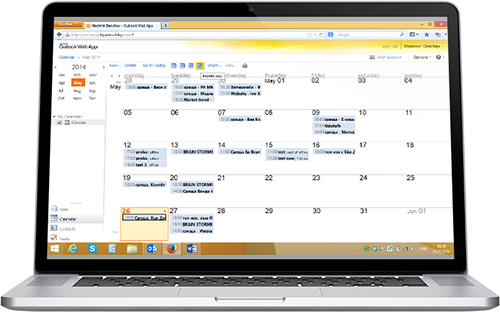 Our email system is designed to facilitate communication and access to information – the two main conditions for successful business!
Our platform includes unique security and productivity features, remote access and mobility to help your business move forward
Your team works together, shares information and operates with an easy-to-use e-mail.
With HyperMail, you get all this and so much more:
Integration of all important business features email, contacts, calendars and tasks
You can work together on common tasks, contacts and calendar with your colleagues. Have shared visibility to all appointment slots and easily create calendar appointments.
Schedule your meetings by simply checking time availability and share calendars with colleagues.

Assign tasks to colleagues and track operations.
Send and receive emails larger than 50MB (twice the amount of permitted limits in Gmail)
Real time information Automatic synchronization of emails, calendars, tasks, contacts and notes among all client devices.
Send an email from your computer at the office and you can find it in your "sent" folder on the PC at home. Add a business contact to your phone and you will get access to it later via Internet based application (Outlook Web App) at home. That's the beauty of HyperMail.
Additional devices = more problems? Not anymore. Your email account, contacts, calendars and shared tasks are stored and synchronized by HyperMail all the time, so that you can stay connected wherever you are.
Automatically sign outgoing massages with corporate signature
General corporate signatures are part of a company's identity. It represents the status of the organisation which cannot be changed. Individual team member is able to add additional personal information into the company's signature.
Create and manage resources Conference halls, multimedia devices, cars, etc.
Resource management gives you the opportunity to manage schedules of common conference rooms, projectors, cars, etc.. so every employee to be clear about whether the resource is available and what is the schedule. Therefore you are aware if the conference and meeting venues will be free, when you decide to use it, and if not, when it would be!