Access to essential information anytime from every device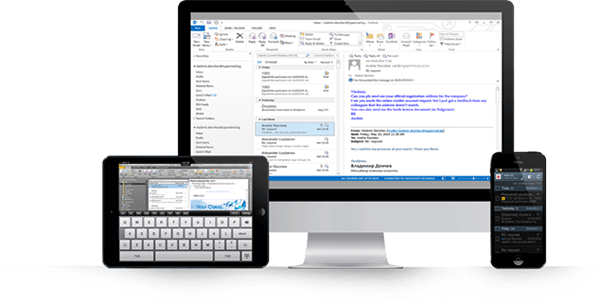 Stay connected to your business when you are in the office or outside. Our service allows everyone on your team to access important business data and email messages from any device (office computer, home computer and phone / tablet) with internet connection.
What enables your "mobile office"?
Whether you use you're a laptop, smartphone or tablet, your data is always available, in or outside the office.
Synchronization and access to all your information in:

Microsoft Outlook
In any browser through Outlook Web App (OWA)
Mobile devices (smartphones and tablets)

Without installing additional software
No complicated settings on your smartphone
You have all of your information on all personal devices
Use your own domain
Online based control panel
New ways of working together without inconvenience.
The distance is not a problem. You can work on the same calendar, you work with your colleagues in real time and from almost anywhere. You can also view their calendars and check when they are available.
Do your job from anywhere.
PC, Mac, tablet, smartphone. You are able to work on different devices from anywhere as you can continue your work from where you left off last time. HyperMail gives you access to everything you need – your documents, email, calendars and contacts no matter which device you use. Your settings are also with you, so that your mail is updated and ready to operate.